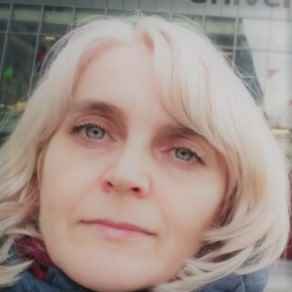 This article is written by Olha Harmatiy, from the Department of Journalism and Mass Communication, Lviv Polytechnic National University in Ukraine. Last year she published a detailed study of science coverage in her country. But following the Russian invasion of Ukraine, she fled with her youngest son to Europe. However, she left her husband, mother and elder son in Lviv. She notes that Ukrainians do not use a capital letter when they write the word Russia.
russia's large-scale attack on a peaceful, sovereign, and independent Ukraine is an encroachment on the territorial integrity of Ukraine and on the Ukrainian national values. It is the destruction of Ukrainians as a nation. The russians are bombing and destroying infrastructure, conducting massive shelling of residential areas of Ukrainian cities and towns using artillery, rocket-propelled grenades and ballistic missiles. russian troops are shooting, raping, torturing and looting.
In this battle, Ukraine upholds the values of a democratic society in which freedom, peace and independence are the basis of development. The Armed Forces of Ukraine and the Territorial Defence Forces inflict heavy losses on the enemy. The struggle of the Ukrainian people is a struggle for Ukraine, Europe, peace and the world.
All the Ukrainians rose to fight with the invaders. Scientists, inventors, academic staff, researchers, teachers and my students at my Lviv Polytechnic National University are among those who fight.
We fight in different places of Ukraine, in the Armed Forces and Territorial Defence Forces. As Ukrainian citizens, many of us are fighting with weapons in our hands, defending ourselves, defending Ukraine and taking care of the security of various settlements.
We work. We apply our knowledge and skills for victory, create developments, equipment and products to strengthen the advantages and combat capability of Ukraine.
For science coverage in Ukraine, the most popular topics are about science and war. How can science foster the victory of Ukraine? Even science journalists and scientists want to know what they can do during hostilities. What information can they provide to the Armed Forces of Ukraine? Topics include territorial defense, volunteers, migrants, refugees, how they can cover the work of businesses, banks, supermarkets, from the standpoint of public interest. russia's large-scale invasion requires that journalists should highlight information from reliable sources for their citizens.
Here are just two examples of how science is helping. Thanks to the chemists of the university, has been started the production of hydrogel dressings, which accelerate and facilitate the healing of burns and wounds. Scientists have been working on the idea of hydrogel healing materials for ten years and have been improving hydrogel dressings for two years. The beginning of the war and the need for such remedies accelerated the transition of research into a practical format. Scientists began to establish the technological process for the manufacture of bandages on February 25, and on March 8, they released the first industrial batches. This technology has already outgrown laboratory samples and is currently operated in semi-industrial mode.
The university is implementing a project to develop and manufacture robotic equipment. This work began in 2014 with the beginning of russian aggression. 11 types of mock-ups, experimental and research mobile robotic platforms, complexes and their modifications have been created. They belong to intelligence, demining, transport, security and training classes of vehicles. The basis of the project is the creation of a military combat unit, which was recommended for use in the Armed Forces by representatives of technical intelligence. Accordingly, a number of vehicles have already been designed and manufactured to perform specific combat missions.
We volunteer. We help to provide our soldiers, territorial defence forces and checkpoints with everything they need.
My University accepts internally displaced persons from areas where active hostilities, bombings and shelling take place. 1500 places for these people have been formed in the academic buildings of the University. More than half a thousand people also live in various University's dormitories.
The university has organised several centres to collect humanitarian aid, and weave camouflage nets. Every day, volunteers from the centres deliver 3-4 buses with food and necessities. Every day, 600 square meters of camouflage net are woven for Ukrainian troops in the "hot spots" where there are active battles.
University teachers and students help to counter russian aggression on the information, legal, psychological, and cyber fronts and in other areas. Most of them are in the ranks of the IT troops of Ukraine, conducting regular raids on enemy sites and blocking false information. This is the dissemination of truthful information about the war, the fight against panic, debunking russian fakes and misinformation.
Researchers of the University appealed to all russian scientific communities to say "No War!", and signed a petition to block russian science. Among the requirements of Ukrainian scientists there are:
blocking of russian citizens' and institutions access to all scientometric databases and materials of all scientific publishing houses;
preventing the participation of russian scientists and research institutions in international grant programs funded by the EU and other partners;
suspending the participation of researchers, students and institutions from russia in current programs of international academic mobility;
boycotting the attempts to hold scientific events in russia;
suspending of the indexation of scientific publications in all scientometric databases published in russia; prohibiting the russian citizens to be editors/co-editors/reviewers of international publications.
The team of Tech Startup School of the University opened the Museum of Science and Innovation in Lviv on April 5. Science is always on time. "We hesitated over how appropriate it is to open this museum at such a difficult time for Ukraine," said Nazar Podolchak, the director of the Tech Startup School. "But in the end we realized that science and education are always relevant, because it is the force that helps us win in everything, especially in the situation we are in now." It is important that this initiative was supported by the entire staff of the University.
We teach students – future journalists and other specialists and professionals, future scientists – they are the future of Ukraine. Despite the extraordinary conditions, the educational process continues, and is carried out using distance-learning technologies. The university has created the necessary conditions so that students do not lose the opportunity to obtain a quality education.
Moreover, students of higher education institutionslocated in the area of hostilities and whose educational services are temporarily suspended, are given the opportunity to receive education at Lviv Polytechnic National University. We do our best to use all the possibilities of intellectual weapons and to teach honestly at a time when our soldiers are courageously defending us from enemies.
We financially support the Army and Territorial Defense Forces.
We take care of our minor children. Many women scientists have left Ukraine, taking their children with them, as not to undergo them at undue risk. Only women could do this, as men between the ages of 18 and 60 are not allowed to travel abroad nowadays. Children and their mothers are now in many European countries. They are safe. They will return when in Ukraine it will be safe, too.
We remain in shelters, basements and bombproof premises during shelling and air alarms.
We thank the world scientific and educational community for their solidarity, support and assistance.
We call to tell the truth about the war and to stop cooperation with russia in science and other fields.
We glorify our Ukrainian heroes.
We cry for our innocent victims.
We pray.
We live. The most important task today is to save the life and health of all Ukrainians, all present scientists and all future scientists of Ukraine.
Glory to Ukraine!
Do you want to help Olha and her colleagues? You could make donations towards the WFSJ solidarity fund and/or the IFJ/EFJ safety fund.
The ABSW will also host an online event on 24 May with Olha and some of her colleagues to discuss their experiences. The ABSW will also provide places for the UK Conference of Science Journalists in September. Olha highlights the following other means of support:
writing research papers with co-authors on topics that may help people in Ukraine.
support for successful Ukrainian student journalists who want to do science journalism such as scholarships and work competitions
the opportunity to participate in a grant/project for Ukrainian scientific journalists and teachers of journalism at Ukrainian universities
organizing and holding an international scientific conference, seminar or workshop of scientists and media practitioners in collaboration with Lviv Polytechnic National University
To discuss these opportunities, contact Olha.