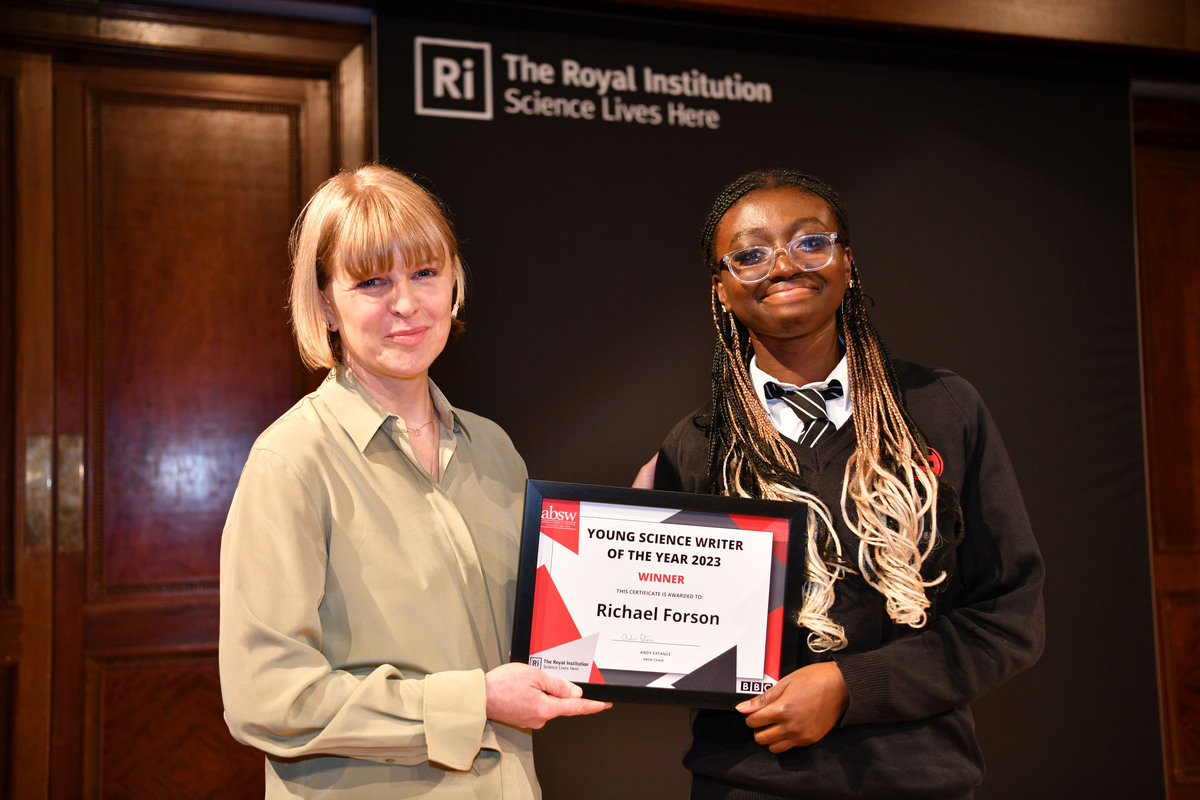 Richael Forson of Eastlea Community School in London is the winner of ABSW's Young Science Writer of the Year Award 2023.
Richael was awarded first place at an awards ceremony held at The Royal Institution on the 26th June by Victoria Gill, BBC Science Correspondent. Richael's personal and impactful essay on 'Cocoa farming: a story of struggle resistance and hope for change', highlighted the challenges facing communities of cocoa farmers in Ghana. She received £1000 to help develop her talent for writing.
Following the successful launch of the competition in 2022, the ABSW once again collaborated with the Royal Institution (Ri) and the BBC on the award. The award aims to help students 14-16 years of age nurture their passion for Science Technology Engineering and Mathematics (STEM) and science writing. This year, we welcomed entries from non-selective state funded schools across the whole of the UK, a significant development from last year's regional competition.
Andy Extance, Chair of the ABSW, said:
"I'm delighted that by opening up the Young Science Writer Award to the entire country, we got great entries on a wide range of interesting subjects. It's wonderful to see our runners up telling fascinating stories about cloning and the nature of infinity, and the winner taking on the way climate change and other environmental issues affect cacao farms like her grandfather's."
Runner-up, Syeda Mahdiya Suraiya from Harlaw Academy in Aberdeen, also attended. Her essay on storytelling through mathematics received great praise from several judges. The other runner up was Owain Ruddy of Ysgol Gyfun GWYR in Swansea. Owain's essay explored the ethics of cloning, a timely piece and whilst he was unable to attend in person, Owain was well represented by members of his class including his science teacher. Both runners-up received £250 to support their science writing and future development.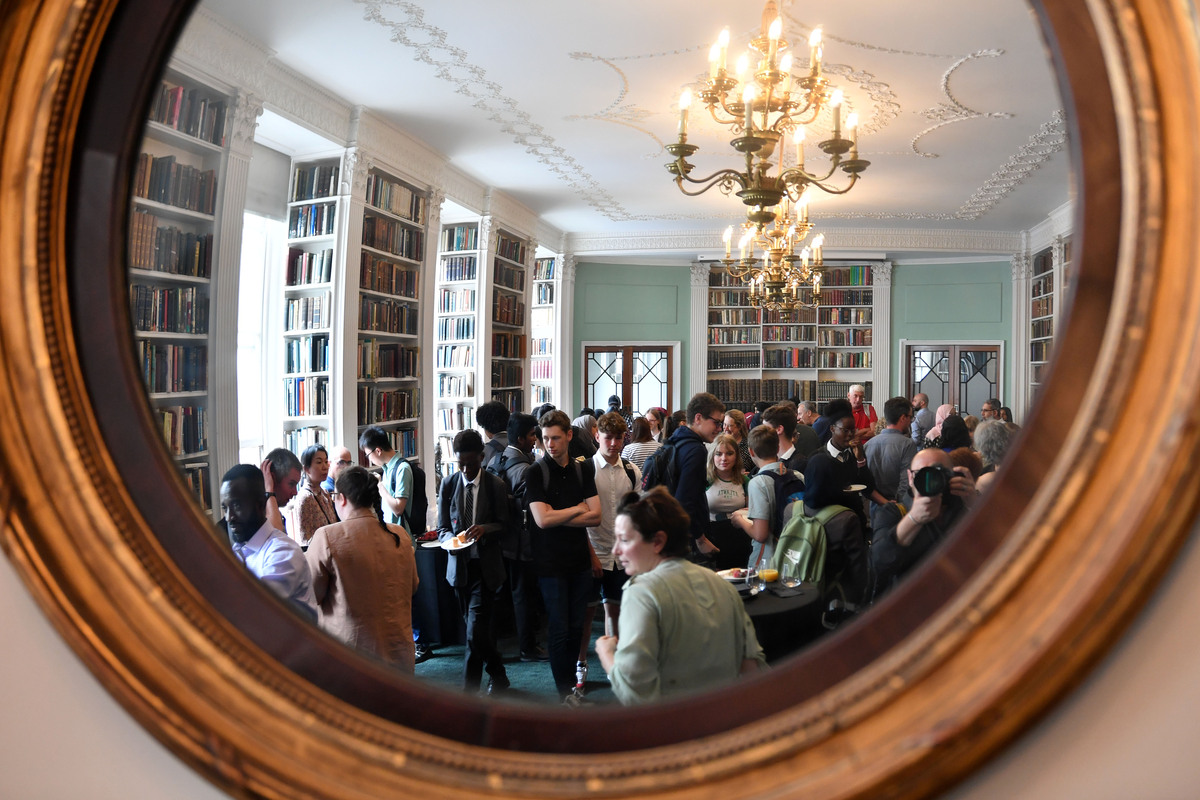 The award's organisers were delighted to see the talents of so many aspiring writers and science communicators shining through. Submissions highlighted some of the most pressing issues facing society today. For example, one explored the quantum realm and its impact on medicine. Another explained some of the wicked problems that AI poses for policymakers and our society.
This year the partners introduced ten highly commended awards for those thought-provoking entries which impressed our judges. The winners were Haleema Khan, Arina Zarubina, Hang Ming Zheng, Sarma Hassan, Taya Cooksey, Tiffaney Thirukumar, Sabrine Zamit, Avril Lansangan, Zayd Shaikh and Reda Pathan.
Jeff and Alex O'Brien who founded and generously sponsored the awards again this year shared. Alex O'Brien, who is also ABSW vice-chair, commented:
"We also were excited to hear that 10 commendation prizes would be awarded, as we know there is so much quality in the submissions that more students deserved recognition."
Also in attendance were Isabel Thomas, an award-winning science writer, and Shivani Dave, a journalist, broadcaster and physicist. They inspired the students with their career journeys and discussed the barriers they have overcome as science communicators.
Students also heard from an expert panel of writers and journalists led by Alex O'Brien including Helen Scales, Victoria Gill and Hephzi Angela. The students then had the opportunity to network in the Ri's famous library.
Daniel Glaser, Director of Science Engagement at the Royal Institution, said:
"The Young Science Writer's Award is a wonderful opportunity to celebrate the potential of our young people. In meticulously researching and crafting these original works, our winner and runners-up have each showcased the relevance of science to everyday life and, I hope, will help inspire others to have a future with science. Many congratulations to Richael, Owian and Syeda."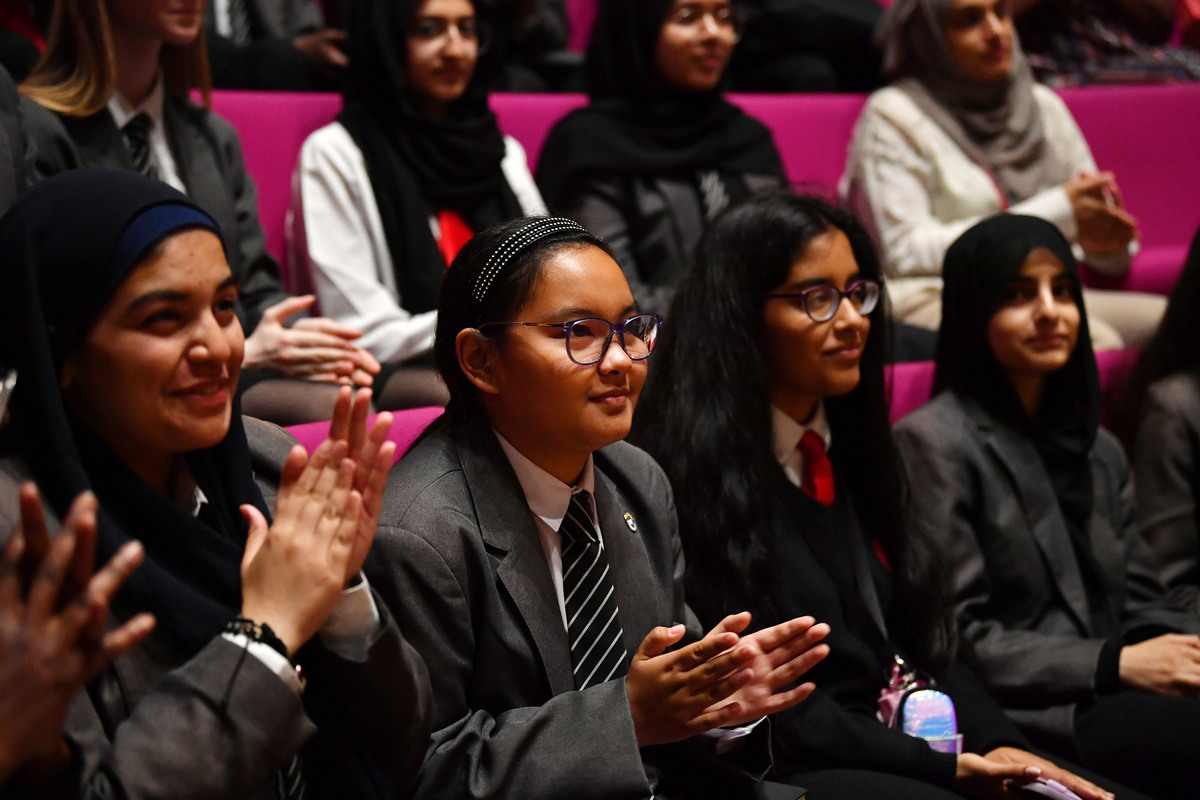 The Young Science Writer Award will return in 2024 where we look forward to accepting submissions from students with a passion for science writing. More details will follow in due course.
The winning entry will be published on the BBC News website. Richael will also receiving dedicated mentorship from Victoria Gill.
For more information, please contact Maisie Keogh at the ABSW: [email protected] or Robert Davies in the Ri press office: [email protected]