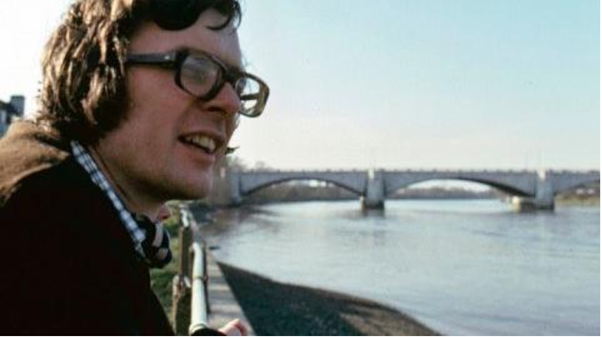 Nigel Hawkes - An Appreciation
Nigel Hawkes, CBE, died in early October at the age of 78. A long time member of the ABSW, he was science correspondent of The Observer from 1976 – 1982 and more recently science editor of The Times. But as a former colleague, Nicholas Booth, notes, Nigel was so much more than that: the science writer we all would like to be.

There aren't, it is often remarked these days, many true gentlemen left in newspaper journalism, but with the passing of Nigel Hawkes last month, it really is the end of an era. The last true gentleman has gone. It is quite an achievement to say that of someone who started in the hot metal days of Fleet Street and retired in the modern era of paywalls and twitter feeds.

His formal obituaries all remark the same thing. He was the measure by which all who worked with him strove to emulate. Unflappable, judicious and exemplary. Here is the true measure of the man: I never heard anybody say anything disobliging about him. Nigel certainly didn't have a bad word to say about anybody. He didn't need to. He was one of those glorious people who let you know what they were thinking without having to say a word.

The world of not just science journalism – as well as the craft of writing and stopping the spread of misinformation – is now all the poorer. His powers as a wordsmith and ability to get to the heart of a story were unparalleled. As those of us who have striven to explain the arcane and counter-intuitive know, that is no mean achievement. He never wrote a mal mot or got something wrong. As Robin McKie who followed him as science correspondent on The Observer often said, he was a hard act to follow.

A whole generation of reporters have remarked on his helping them. His solicitousness in times of personal trouble. His courtesy and charm. And more than anything else, stopping nonsense from appearing in print. As someone who worked with him closely in the nineties – he recommended me for the job (one misjudgement, clearly in forty years) - I simply want to thank him and share a few memories what it was like to work with him.

First off, to say "Nigel was a science writer" is like saying "I am thinking of having Pablo Picasso in to paint the bathroom". There was so much more to him than that. He continued to garner respect when he moved across to the medical world as he had done previously when he was a diplomatic correspondent and foreign editor. He was the indisputable master of his brief.

Nigel was also genuinely unaware of how much esteem he was held in. That wasn't just by his fellow hacks, but management too, and believe you me, that is a tightrope walk very few have ever pulled off. He was, as they say, his own man. But he wasn't a lackey or lickspittle. I always liked to think of him as the kind of character that Ronnie Barker often parodied in the sense that yes, he was establishment – I kidded he used to phone his tailor for a replacement pinstripe suit every few years and say "Same again please" – but therein beat a very subversive heart. He brooked no favour and heaven help anyone who tried to snow him.

His brain was quite extraordinary. Nigel would look through his glasses – of the kind that customs officers tap for hollow echoes – and you could tell he was analysing something faster than a Cray supercomputer. Not the cold investigation of an automaton, but someone who was shrewd – and unlike various people on hobby horses – was completely apolitical. As journalism has changed to allow noisier, brasher self publicists to ply their prejudices on an hourly basis, he was remarkable for his probity.

I have no idea who he voted for and what he believed in. I didn't need to. That wasn't his job. It was the science, stupid.

Perhaps that explains when he was awarded the CBE in 1998 for services to science and journalism. In the newsroom, he was called "Commander Hawkes" thereafter by several of his friends. The man himself was somewhere between embarrassed and genuinely nonplussed. Everybody else would have "accidentally" shown the gong when it just "happened" to be on his desk or inside a lapel, but not Nigel.

The CBE added to his deserved reputation as a fair and fearless chronicler of not just The Times, but the times - which were, as an old folk song has it, a changin'.

Nigel himself was proud to have come from the North East, though he had been sent to the kind of schools where children were electrocuted if they spoke with any signs of regional accents. After Oxford, he was recruited by John Maddox on Nature – where he became news editor - and later worked for The Telegraph. One day, he happened to show us his byline photo from the sixties. To my delight, he looked exactly like Michael Caine did in The IPCRESS File. Occasionally, I would leave Post-It notes on his desk addressed to Harry Palmer that began "Now listen to me" which always made him laugh.

That was usually the case with Nigel. He was exceedingly good company. He was a very witty, wry and genuinely entertaining presence. When he wrote a piece for The Observer about secession in North Korea one Christmas, he wanted the headline to read "We Three Kims Of Orient Are". He was once tickled pink to appear on local radio in Swindon when a classic headline on a story of his – remarking that our galaxy was as boring as that benighted Wiltshire town - could have led in these more serious times to a fatwah.

If this sounds like gushing sycophancy, count the number of times I used genuine in the above paragraphs. He was the real deal. Around 4pm, he would look across with a wry smile. "Conference quickie" he would mouth. That meant a brisk dash to the pub wherein a swift half of pale ale would be quaffed – oh alright, then, a whisky and a pork scratching as it's my birthday - when the editors were in conference. It helped fortify him for the lunacies that would sometimes emerge. As his Times obit put it, he stopped an awful lot of crap from appearing in the newspaper.

Nigel Hawkes was – like all the best reporters – nobody's fool.
As a newspaper science editor, he was probably the best in the business. I remember he was once asked to write a piece about dark matter for the Op Ed pages – which meant, appealing to the kind of people who talk loudly in restaurants and quote poets in the original Greek – and it sticks in the mind, purely because he sat down and banged it out in less than an hour. Sixty minutes to create a piece of lyrical poetry that was utterly astonishing.

Another irony is that when it came to awards, Nigel rarely ever stuck his head above the parapet. "I look at my clippings," he said to me once, "and I shake my head". That was another measure of the man: he was genuinely modest. I have known a few hacks who have wire service teleprinters for hearts but Nigel was a fully-formed human being. I would go so far to say he was a kindly, gentle soul who, like me, realised that most newspaper journalism often borders on the realms of situationist pranks. "I'm on sidebar duty," he would say with a rueful smile when some bright spark of a news editor asked for something for the online edition which would likely never get used.

In recent years, when a plague of locusts has descended on the land in the form of "science communications degrees" or "media centres" or the full primping, self-deluding panoply of people who think they can do better and we old timers still hope the boy with the butterfly net will one day catch up with them, Nigel was unwavering. He just got on with it and, trying to stop idiocies from appearing, a look to heaven was usually enough, followed by a chuckle that novelists always call enigmatic.
And, that is how I will remember him and those blessed years – good times, bad times, new Times, old Times, it doesn't really matter. Thank you for everything, dear boy – it was a blast. There's a beer and a packet of crisps waiting with St Peter.

Nicholas Booth

(who worked with him from 1989-1999 on the world's oldest newspapers, first as a science writer on The Observer and then a technology editor on The Times. He now tweets as @thievesbook)