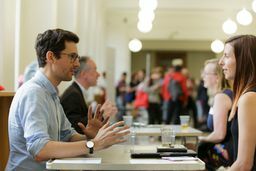 The ABSW is looking for science writers to provide mentorship and one-to-one advice to its members
After a successful trial of a mentoring scheme starting in April 2021, pairing ABSW members with established science writers, the scheme is being extended and new mentors are now needed.

"Our members, both senior and less experienced, really benefited from the pilot mentoring scheme. We're now increasing our ambition and expanding the scheme, but to make it a success we need more excellent mentors," said Ben Upton, the ABSW board member, who led the scheme.
The pilot scheme paired writers based on their shared aspirations and interests. Each pair aimed to spend about 45 minutes a month in contact, whether via a video call, or other means. The details of how they used their time together was left up to them.

"We wanted to design a larger scheme, so in September, we surveyed the 19 mentor-mentee pairs to see what they thought. Happily, the feedback was overwhelmingly positive, and we're now seeking more mentors for the full-scale programme," said Ben Upton.

The mentor-mentee relationship is beneficial for both parties. "The ABSW mentoring scheme was really valuable for me as an editor. It allowed me to approach my role from a new perspective and really crystallise what I was looking for in the stories I would commission," said Matt Reynolds, senior writer, WIRED.

"It's a huge pleasure to work with engaged early-career journalists and be exposed to new ideas and perspectives. Journalism—particularly in a specialist field—can sometimes feel like quite a solitary endeavour. There's a lot of putting things out into the ether and not always hearing much back. Mentoring schemes are a valuable opportunity for writers to learn more about what editors are looking for, how to sharpen pitches and bring their work to new audiences," said Reynolds.

The benefit of seeing your day job through fresh eyes was a recurring theme among the pioneering mentors, such as Mun-Keat Looi, features editor at the British Medical Journal and a journalism lecturer at Imperial College London. "I find it great to be able to reflect on my craft and hear how it is for someone with a fresh perspective rather than decades of built up cynicism!" he said.

Some of the mentors in the pilot are freelance writers. Both mentors and mentees told the ABSW that the solitary nature of their day job made a mentoring relationship all the more valuable. Rachel Brazil, a freelance science writer and trainer based in London, said being a mentor had also built her faith in her own abilities. "Helping someone else inevitably gives you pause to think about how you do things yourself. I have found this aspect of mentoring really useful and it has given me a little more confidence in my own professional skills," she said.
Mentee Rita Ponce, a freelance science writer, said working with a mentor helped give her the confidence to pitch a book idea to a number of publishers. "Thinking it over with an experienced writer helped me turn this general idea into something more concrete that I could turn into a pitch," she said.
If you'd like to volunteer as a mentor please send your name, your current job title, a one-paragraph CV (can be as informal as you like), three areas of expertise and your preferred medium for meeting with a mentee to [email protected]