Volunteers for the Association of British Science Writers have conducted a new analysis of its members, highlighting the diversity that exists in this somewhat "unusual" career. Yet it also speaks volumes about how we're very much tilting towards the same goal⁠—reporting on and communicating science. Staff writers freelance for other publications. Some leave their office desk for a home desk as a freelancer. Even senior editors at major publications contribute stories to other outlets. These winding career paths lead to some surprising figures within the ABSW's membership. For example, the analysis shows that at least 18% of the members currently registered identify as editors.

"Our members often tell me how unusual their career niche is," said Andy Extance, ABSW chair. "This analysis helps show that in many ways, science writers are united in our uniqueness. But it also suggests that there may be more similarities between us than we sometimes think."
ABSW volunteers Patience Asanga, Sophie Berdugo, Skye Marshall, Katherine Skipper, and Charles Ebikeme reviewed what ABSW members wrote about themselves in the directory on our website early in 2022. They looked at whether members are staff or freelance, mainstream or specialist, and whether they are editors. Marshall then analysed the data the team retrieved from the 650-plus members registered on the database. Her analysis of these data showed that 119 members in the ABSW members directory say that they are editors. Of this number, 69, or 58%, currently hold senior positions in their respective outlets. The others either held such positions previously or are freelance editors.
The analysis also showed that 60% of members are working as freelancers. This aligns with a report from IPSE, the UK's only not-for-profit association dedicated to the self-employed, of a 46% increase in the number of freelancers in the UK between 2008 and 2017.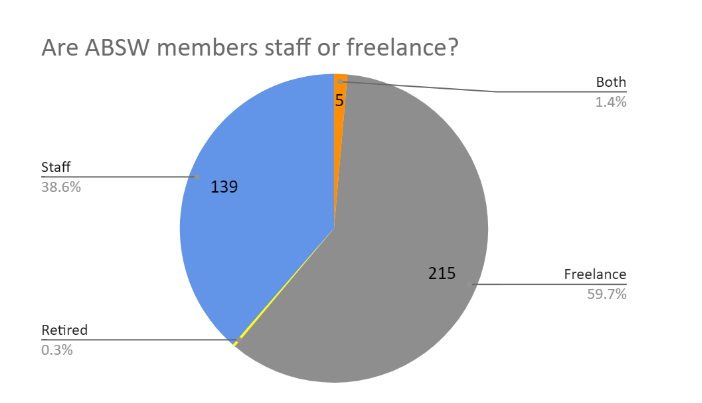 Many of these writers are working for specialist media. 210 analysed members write for the specialist media, against 39 members writing for general media outlets. An overlap exists, though. The analysis shows that 59 members write for both specialist and general media outlets. Most of the members in this group are freelancers.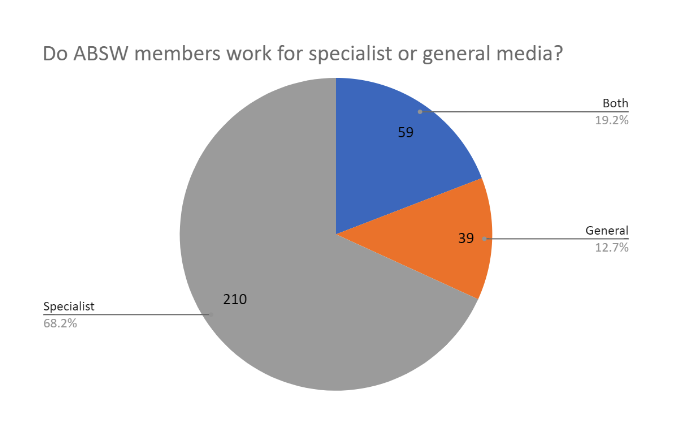 As thorough as this analysis was, there exist some limitations due to the inadequate information provided on members' profiles. As a result of this, it was a little challenging to accurately place each member in various categories. This explains why the total numbers across the categories don't add up to match the ABSW's total membership figure. It also means that the results are only indicative, rather than comprehensive.